What You Need to Know
When ordering VINYL LABELS provide the following: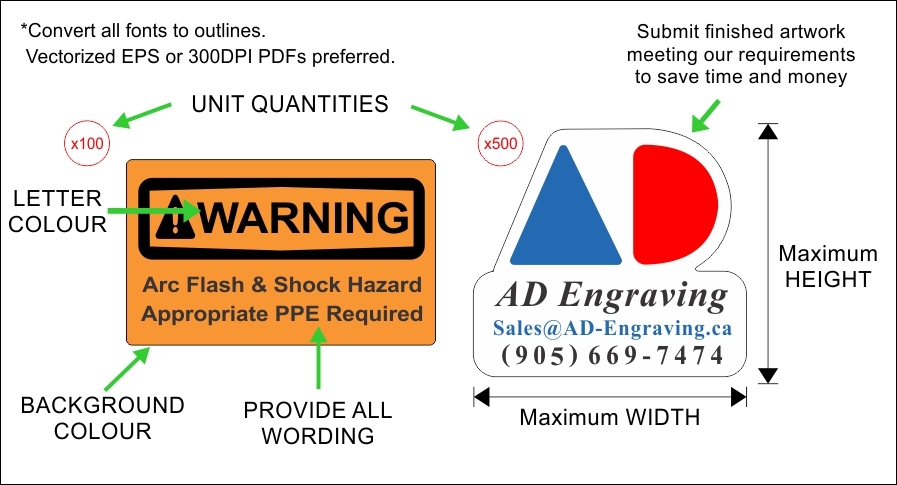 Digital Printing Requirements:(PC ONLY formats)
• Vectorized EPS or PDF files preferred (PDFs must be 300 DPI or better)
• Convert all fonts to outlines or provide complete font set
• All colors need to be saved as CMYK for digital printing process - SEE COLOUR MATCHING
• Size your artwork to the scale of the label required or larger
• Acceptable file formats include: EPS, CDR, AI or PDF
Please Note:
We do not accept Microsoft Word, PowerPoint or Publisher files as artwork
CAD files can only be used as a guide for us to create artwork (must be saved as 2D DXF files)
We will not be held responsible for font type used if complete font set is not sent to AD Engraving or "convert to curves" is not applied to the graphic before sending it to AD Engraving. For Photoshop, use "Flatten Image" command before saving. This will convert fonts to curves.
*Additional artwork charges may still apply
Colour Matching:
The colours you see on your computer screen (usually low resolution RGB) will vary from the finished printed product which uses a high resolution, digitally controlled, 4 colour process (CMYK).
Learn More About Ordering: